HOW TO MANUALLY CHANGE THE ARCHIVE DISK DESTINATION
If the archive disk has become full, and a user has bypassed the prompt requesting the next volume,
you must manually change the settings in the DocSTAR Administration program relating to the volume number.
Please follow the directions below.
At the DocSTAR host system, open the Administration Program
by Double Left Clicking the Gold Key icon on the Windows Desktop.
<![if !vml]>
<![endif]>
Login to the Administration program as ADMIN with the appropriate password.
<![if !vml]>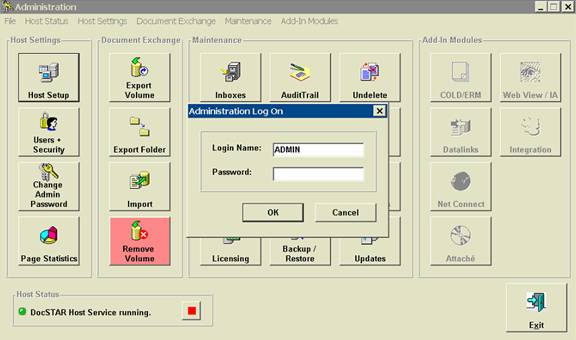 <![endif]>
Single Left Click on the HOST SETUP Button in the top left corner of Administration
<![if !vml]>

<![endif]>
Single Left Click on the ARCHIVING tab across the top of the Host Setup screen
<![if !vml]>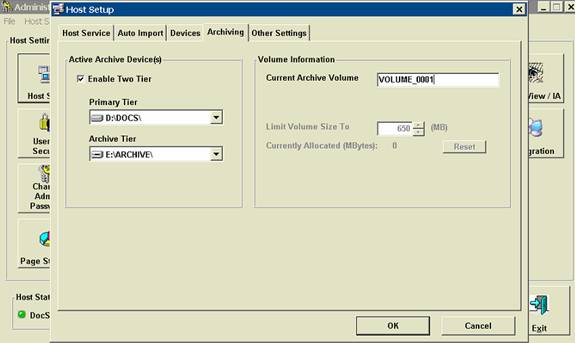 <![endif]>
In the upper right hand corner change the CURRENT ARCHIVE VOLUME to the
next Volume number in sequence. And then click OK.
ex. VOLUME_0001 to VOLUME_0002, VOLUME_0010 to VOLUME_0011 etc.
Back at the Administration screen, in the lower left hand corner under Host Status,
You should see "DocSTAR Host Service running".
Single Left Click on the RED Square to stop the Host Service
<![if !vml]>

<![endif]>
Wait for the status to change,
<![if !vml]>

<![endif]>
When "DocSTAR Host not running" appears,
Single Left Click on the Green right arrow to restart the Host Service.
When the Host Service is running again, you may EXIT the Administration Program
by Single Left Clicking on the Exit button in the lower right corner.
<![if !vml]>

<![endif]>
Please also check the What is a !Deferred Archiving Exception ? page for more information!
© Copyright DOCS Imaging LLC 2009. All rights reserved.
Last Update - Friday December 10, 2010